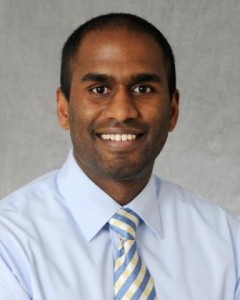 Dhinu graduated from The George Washington University with his DPT in 2010. While in school he completed a clinical internship with Eric and Jim Beazell, and went on to complete the Orthopedic Manual Physical Therapy Course Series in 2012. He became a Board Certified Orthopedic Clinical Specialist in 2013. Afterwards, Dhinu pursued a full time year long orthopedic manual therapy fellowship at the University of Illinois at Chicago, and achieved full fellowship status with AAOMPT in 2014.
Dhinu is a faculty member with the GWU DPT program. Additionally, he is a senior therapist at the GWU Hospital Outpatient Rehab Center. He enjoys mentoring physical therapy doctoral students, residents, and fellows.
While varied, Dhinu's primary research interest is the utilization of manual therapy in the management of tendinopathy. He has published a number of peer-reviewed articles and serves as a reviewer for a number of orthopedic journals as well. He is a member of the APTA's orthopedic, sports, and education sections.